Closely related to pufferfish, porcupinefish are medium to large sized fish with short, wide bodies, and large eyes. The mouth contains teeth which are fused to form a strong, beak-like crushing structure which can give a nasty bite.
The rounded dorsal and anal fins are set far back on the body and lack spines. Most species found around Koh Lanta are typically coloured light grey, light tan or brown, usually overlain with dark brown to black spots, bars, and/or blotches; green overtones and yellowish spots may also be present.
Just like pufferfish, porcupinefish have the ability to inflate their bodies by swallowing water or air, making themselves up to twice as big when feeling threatened.
Even when inflated, porcupinefish are able swimmers, however when on the surface, air absorbed into the soft belly causes the fish to float upside down, with water being drawn through the mouth into the gills until it is able to release the air and return to depth.
This increase in size quickly limits the range of potential predators to those with much bigger mouths.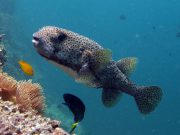 Porcupinefish have an additional defence system provided by hundreds of short, sharp spines, which in most species normally lie flat against the skin. When inflated, these spines radiate outward, presenting a potential predator with a large spiky ball.
Some species of porcupinefish have yet another defence mechanism, again, similar to pufferfish, they can be very poisonous, carrying powerful toxins in their internal organs which they obtain from certain bacteria in their diet.
As a result of these three defences, porcupinefish have few predators, although adults are sometimes preyed upon by sharks.
Incredibly, Charles Darwin reported that porcupinefish have been found floating alive in the belly of sharks, and have even been known to eat their way through the stomach and body of a shark in order to escape.
Porcupine fish are generally slow movers, feeding on hard-shelled benthic invertebrates that are crushed with powerful jaws such as crabs, snails and sea urchins.