Diving @ the Kledkaeo Wreck of Koh Phi Phi is probably the best and most fishy wreck dive around Koh Lanta.
The 382 ton supply ship 861 HTMS Kledkaeo entered service in the Royal Thai Navy in 1956 as a transport support ship until being decommissioned and sunk as an artificial reef close to Koh Phi Phi Leh on 19th March 2014.
With a maximum speed of 12 knots, she was laid down as the 47.2m long, 7.7m wide RNoMS Norfrost in 1948 by Pusnes Mechanical Workshop, Arendal, Aust-Agder Norway.
Eight years later the ship was sold into the Royal Thai Navy as 861 HTMS Kledkaeo, and now forms the newest dive site in Krabi province.
Divers will find the Kledkaeo wreck has settled with a list to port of around 10 degrees and there are many entry points to the wreck, cargo holds, cabin doors, passage ways, steps, etc. allowing penetration, however this should only be carried out with the proper training and equipment.
Sitting east of Koh Phi Phi Leh, between Phi Ley Bay and Viking Bay, this wreck is already home to many thousands of fish, including giant schools of Big Eye Snapper, lion fish, schools of porcupine fish, grouper, rabbit fish, fusiliers, damselfish, trevally, squid and barracuda.
The superstructure sits aft of midships, with the top of the wheel house / funnel area around 14m. Below the wheel house are two further decks with railings and ladders surrounding small cabins all of which offer penetration to suitably qualified divers.
From the superstructure, divers can travel to the stern of the ship which also has an aft deck with a covered cabin area and surrounding passageway. In the centre of the aft deck is a cargo hold entrance with a circular area behind which may have once held a fire-fighting pump.
Forward of the superstructure in the main hold area with the mast now lying horizontal along the centre of the ship, running right up to the forward cabins and deck area.
There are several small cabins and penetration points around the forward cargo holds with two cargo hold entrances on top of the forward deck, leading to the bow.
Visibility on the wreck varies and this dive is suitable for experienced divers. The position and north-south orientation of the wreck means that it is very sensitive to currents, making it less suitable for newly certified, inexperienced or less confident divers.
Book online to save 10% on dive trips and scuba courses on Koh Lanta.
Diving the Kledkaeo wreck from Lanta is easy on our speedboats, however we can usually only dive this wreck during half-moon periods when the tides are less strong.
Diving the Kledkaeo Wreck as the First Dive
Due to it's depth, the Kledkaeo Wreck is usually dived first, with a second, more shallow dive on one of the nearby coral reefs, including Hin Klai, the Bida islands or Phi Phi Palong.
Dive Site Guide : HTMS Kledkaeo Wreck
| | |
| --- | --- |
| Visibility: | 5m - 20m + |
| Level of Diving: | Medium |
| Snorkeling: | No |
| Depth: | 14m - 27m |
| Journey Time: | 30 - 40 mins |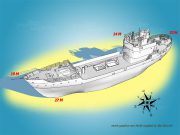 Find out more at the Thai Department of National Parks.
Minimum Open Water Diver, or equivalent.

All trips are 2-tank dives. Includes free equipment rental, lunch & soft drinks on the boat.

Does not include Marine Park Diving Fee: Adult

฿

600

, Child:

฿

400

per day.
Our Boat Trip Schedule
Our dive trips depart Koh Lanta in the morning every day from the south end of Long Beach, returning to Koh Lanta around 1:30 - 2pm, depending on how the day goes.
All trips are 2 dives a day
Trips depart from the beach at our dive shop @ Lanta Castaway Beach Resort
Trips Depart 8/9am, return 2pm
Dive & Relax is open from Oct 15 - May 15.
E-mail us info@diveandrelax.com in advance with any questions, or to make a booking.
We may schedule a Shark Point & Anemone Reef dive trip or a KledKaeo Wreck dive trip upon request. A minimum of 5 divers are required for these trips, please let us know if you are interested.
We love to dive as much as possible during the high season, however all our dive trips depend on the weather, sea conditions, currents and minimum numbers and may be subject to change at short notice.
Book online to save 10% on dive trips and scuba courses on Koh Lanta.
For more information on our weather and climate, check out the best time to visit Koh Lanta.