Short Journey Times
Diving by Speed Boat from Koh Lanta means fast boats, beach departures, and the shortest journey times to some of the best dive and snorkel sites in Thailand.
With 9 am departures and an early afternoon return to Koh Lanta around 2 pm, you can travel in style, avoiding the crowds on the larger, slower dive boats.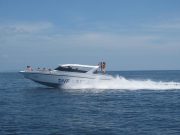 Koh Lanta speed boat dive trips can reach Koh Haa in just 30, and Hin Daeng & Hin Muang in 60 - 75 minutes, saving you between 3 and 6 hours trip time each day. Less time on the boat, more diving and relaxing...
Our Speedboats
Dive & Relax owns and operates two customised speed boats, each featuring comfortable seating, purpose built tank racks, an on-board western-style toilet and fresh water shower.
'Saya' is 10.7 m / 34 feet long, powered by 2 x 200 hp outboard engines

'Saairung' is 11.4 m / 37 feet long, also powered by 2 x 200 hp outboard engines
Take advantage of free, unlimited soft drinks on our speed boats while you are diving or snorkeling with us, together with a superb Thai food lunch prepared by one of the best restaurants on the island, and fresh, local fruit.
All Boat Crews trained in Emergency First Aid.

Western-style Toilet and Fresh Water Shower on board.

Medical Oxygen, First Aid & Life Jackets on board.

Speed Boat trips are 2 Dives Per Day during High Season.
Speed Boat Diving - Small Groups
We carry a maximum of 10 diving guests or snorkelers on board each of our boats per day (or a combination of this) plus our dive staff and boat crew.
Our small diving groups are typically only 2 or 3 with each professional guide (max 4), and even smaller teaching groups for our scuba courses.
Koh Lanta speed boat diving prices are no more expensive than diving from larger, slower dive boats.
Koh Lanta Private Speed Boat Charter
For the ultimate diving or snorkeling trip, you can also privately charter one of our speedboats and let our fantastic staff take care of you on a truly memorable day out for you and your family.
Book online to save 10% on dive trips and scuba courses on Koh Lanta.