Amazing Underwater Creatures
From tiny macro animals, to the largest fish in the sea, we are very lucky to be located on Koh Lanta, an area with a huge abundance and diversity of tropical marine life and some of the best dive sites in Thailand.
Learn all about the wonderful animals we find underwater on our dives, including hard and soft corals, anemones, rays, an enormous number of fish species, sharks, shrimp, nudibranchs, turtles, snakes, octopus and so much more.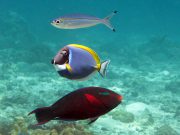 Our Marine Life Guide is not yet complete, but we already have photos of hundreds of species found diving around Koh Lanta. We will be adding more species every season, diving, photographing and writing about our amazing marine life.
Dive slowly and keep your eyes open - you never know what you might see...