Dive & Relax Dive Staff
We are very lucky to have some of the most friendly, knowledgeable, and professional dive staff and boat crews on Koh Lanta, many of whom have been with us here at Dive & Relax for a great number of years.
We're proud of our passionate and hard working team, and we love to share our knowledge of the wonderful coral reefs and marine life around Koh Lanta with our guests.
Dive & Relax staff also includes our boat crews, all of whom are part of the local 'Chao Lay' (Sea Gypsy) community, either born here on Lanta or on Koh Jum (an island just to the north of Lanta).
Our Sea Gypsy crews are experienced fishermen, scuba divers and free-divers, with a lifetime's experience of the islands and seas around Koh Lanta.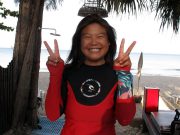 This unrivaled knowledge allows us to choose the best possible dive sites at each area depending on the weather, currents, and sea conditions, giving you, our guest, the best possible diving experience.
You might even find one of our boat crews free-diving down to meet you underwater, pointing out an elusive frogfish or camouflaged stonefish hidden in the corals!
Book online to save 10% on dive trips and scuba courses on Koh Lanta.
We know that you work hard, and that your well earned holiday time is very valuable, so why not enjoy our 5-star service, and let some of the most experienced, friendly and professional dive instructors on Koh Lanta take care of you while you just sit back, dive and relax...