The Ultimate Trip
Privately charter one a speed boat on Koh Lanta for a unique scuba diving or snorkeling experience to some of the most breathtaking islands and coral reefs in the Andaman Sea.
Enjoy the ultimate private trip with your friends and family and let our wonderful team take care of you on your own custom-designed trip.
Diving or snorkeling, you choose exactly the private charter option that suits you and your group.
Our speed boats are available for private trips from late October until mid May each season and we will be very happy to create a custom trip for you, your friends, family or diving club while you're here on Lanta.
You can even take a scuba diving course on a private charter trip.
Paradise Islands
Once you've told us some details about you and your group, and whether you prefer diving, snorkeling, or a combination of both, we can suggest the most suitable island destinations.
Here's a quick rundown on some of the more popular choices for private boat charters on Lanta:
Book online to save 10% on dive trips and scuba courses on Koh Lanta.
Beach Pickups
If your resort or villa is located at the beach on the north west of Koh Lanta, we can send our speed boat to pick you up directly at your resort, as long as there is a safe access at the beach for our boat.
For areas away from the beach, or with a rocky beach area, we will provide free transport by road to a suitable beach departure location.
Our Speed Boats
Our custom-designed speed boats are around 11 m in length, and are fully equipped with everything you need, including a western-style toilet, a fresh water shower, first aid kit, medical oxygen and life jackets for everyone on board.
Our Private Charters from Koh Lanta always include professional dive and snorkel guides. All our staff, including the boat crews are trained in emergency first aid and sea rescue techniques.
On board we will supply unlimited soft drinks all day, a delicious Thai food lunch with steamed rice and four different dishes, two chicken, and two vegetarian. Fresh fruit is served for the trip back to Lanta.
Try Scuba Diving
If you want to try scuba diving on Lanta, you can include this in a private charter day trip. Simply tell us at the time of booking and we will check a few health questions with you to make sure you're safe to dive.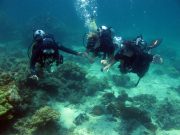 Experienced dive instructors will look after you, providing a thorough pre-dive briefing, and teaching some important scuba skills in shallow water before you head off to explore the coral reefs.
How to Book a Private Charter on Lanta?
Send us an email to info@diveandrelax.com and let us know how many people in your group, their ages, when you will arrive on Koh Lanta, where you plan to stay, and which activities you are interested in.
We can then send more information and private charter prices, including details of marine park fees.
For all private charter bookings, we need to meet everyone the day before the trip at our dive shop on Koh Lanta @ Lanta Castaway Beach Resort, before 5pm, to complete the paperwork, check equipment sizes and confirm arrangements for the following day.
With regards to payment, for full boat charter we require a deposit of 50% in advance, with the balance payable in full at least one day before your trip. Prices start at 24,750 Baht per day.
Book online to save 10% on dive trips and scuba courses on Koh Lanta.
Minimum Age & Non-Swimmers
Please note that the minimum age on a private charter trip is 6 years old. We do not accept any persons on a private charter trip below the age of 6 years old.
For safety reasons, unfortunately we are unable to accept any non-swimmers on our boats.