More Diving, Less Theory
Divers with an Open Water Diver certification (or equivalent from another diver training system) can move up and enjoy more diving adventures with the Advanced Open Water Diver Course here on Koh Lanta.
The Advanced Open Water Diver course not only certifies divers to depths of up to 30 meters, it's also a fantastic opportunity to improve buoyancy, air consumption, and confidence in the water.
The wonderful dive sites around Koh Lanta are perfect for the Advanced Open Water course, with each group of islands having their own ideal locations for teaching aspects of the course.
For example, the shallow, flat sandy lagoon at Koh Haa, or rocky plateau at Koh Phi Phi Palong are both perfect for the Underwater Navigation or Peak Performance Buoyancy course dives.
The deeper areas outside Koh Haa Lagoon, or around Hin Daeng & Hin Muang are perfect for the Deep Diver part of the course, or perhaps the Underwater Naturalist or Fish Identification dive...
Specialty Dives
The PADI Advanced course consists of 5 Specialty Adventure Dives, each one being an introduction to a different specialist diving area.
Students have several different specialty dives to choose from, however they must include the Deep Diver and Underwater Navigation dives to qualify as a PADI Advanced Open Water diver; the other three are up to you!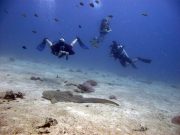 At Dive & Relax, we offer the following additional Adventure Dives to divers 10 years old and older:
Fish Identification

Underwater Naturalist

Boat Diver

Underwater Navigator

Peak Performance Buoyancy

Underwater Imaging
Additional Adventure Dives available to divers 12 years and older:
Deep Diver

Search and Recovery Diver

Drift Diver

Wreck Diver

Rescue Diver
The PADI Advanced course Deep Diver depth limit is 21m for children up to age 14, and 30m for divers aged 15 and over.
We usually need a minimum of 5 interested divers to schedule a trip to the HTMS Kledkaeo Wreck, so if you're interested in this advanced dive, please let us know and we can check interest with our other divers.
Schedule
Since we do 2 dives per day on our speedboats, we like to teach the PADI Advanced Open Water Diver course at a relaxed pace over 3 days.
There is some self study to complete in the afternoon/evening before each day diving, however this should hopefully take no more than an hour each day.
With a total of 6 dives during the 3 days, learning is at an easier pace, giving you more time to practice your new skills, enjoy the diving and of course, your holiday on Koh Lanta.
Free Scuba Skills Refresh
If you have not been diving for a while then we will also include a free Scuba Skills Refresher on the first dive before starting the specific PADI advanced course dives.
Check our page on the Scuba Skills Refresher for more details.
What to Expect
The course begins the day before diving when you check in with us to complete the paperwork, diver medical statement, check equipment sizes, and receive the course materials.
We will provide you with an Android tablet with a digital copy of the PADI Advanced Open Water Diver course manual pre-loaded so that you can complete the self study in your resort or bungalow.
The Advanced Open Water course is more of a 'hands on' practical course, with more diving and less theory than the open water course, however each of the course theory modules is still followed by around 9 - 12 easy multiple choice knowledge review questions which must be completed for each of the advanced dives.
Each day will start with a thorough dive briefing at our dive shop on Koh Lanta @ Lanta Castaway Beach Resort where your instructor will explain the dives, where you are going, and what you will learn during the dives.
A short speedboat trip will then bring you to some of the best dive sites in Thailand, where your instructor will keep you updated on what's going on, the skills you'll be working on, and what to expect during the dives.
Once back on Lanta in the early afternoon, you will log the dives, check your course knowledge reviews, and prepare for the next day's diving.
At the end of the three days you should have completed all the course theory modules, knowledge review questions, and learned quite a lot of new diving skills. Once your instructor confirms that all course requirements have been met, we can then certify you as a new PADI Advanced Open Water Diver!
Includes free equipment rental, lunch and soft drinks on the boat.

Includes PADI Digital Manual and PADI Certification.

Additonal

฿

800

Fuel Surcharge for dives to Hin Daeng & Hin Muang or Shark Point & Anemone Reef.

Does not include Marine Park Diving Fee: Adult

฿

600

, Child:

฿

400

per day.
Keep Learning
After completing your Advanced course with us here on Lanta, the next step is the Emergency First Response (EFR) and & Rescue Diver courses.
How to Book the Advanced Open Water Diver Course?
Send us an email and let us know when you plan to visit Koh Lanta, how many people are in your group, your previous dive experience, and when you would like to start the course.
We can then send you all the necessary information, answer your questions and let you know how to confirm the booking.
Scuba Courses Available on Koh Lanta
Are you Fit to Dive?
Whilst scuba diving is a very safe activity, it is important to know that you are fit to dive and that you do not have any fitness or medical conditions that could increase your risk of an accident underwater.
If you answer 'yes' to any of the medical questions, please print the entire form and take to your family doctor who will assess your fitness to dive and issue a medical statement which we must see before you start diving.
Find out more with the UK based Diving Diseases Research Centre.
Book online to save 10% on dive trips and scuba courses on Koh Lanta.