The Spadefishes family (Ephippidae) are large, oval spade-shaped fish, with highly compressed (squashed flat) bodies, small mouths and matching dorsal and anal fins.
This well-known family includes the reef-dwelling genus Platax, the batfishes, which are often seen at dive sites around Koh Lanta, particularly Koh Haa and Hin Daeng.
With a maximum size of 50 - 60 cm, these can be curious fish, sometimes approaching and following divers, making them easy subjects for underwater photographers.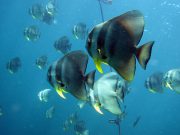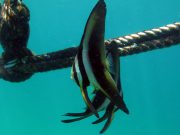 Batfish are generally shiny silver with areas of yellow and vertical brown or black banding. The eyes are often located in one of the vertical bands as a method of camouflage.
We sometimes see batfishes alone, but often we see them in small groups of two or three individuals, and occasionally in larger groups of 30 - 50+.
The reef-dwelling batfishes feed on algae, a wide variety of bottom dwelling invertebrates, and zooplankton. The diet also includes sponges, tunicates, bristle worms and soft gorgonian corals.
2 species found on this page.