Parrotfish are closely related to the wrasse family, and with around 95 species, they are one of the most commonly seen and most important fish on a coral reef.
Parrotfish have blunt heads and deep bodies, and are easily identified by the tightly packed teeth on the external surface of their jaw bones, forming a parrot-like beak which is used to scrape algae and seaweed from corals and other rocky surfaces.
The teeth grow continuously, replacing material worn away by feeding. Chunks of rock or coral eaten with the algae are crushed into sand and ground with the algae to aid in digestion, making parrotfish some of the most important producers of sand on coral reefs. Parrotfish poop is often mostly sand.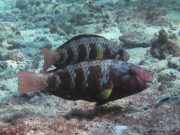 Scientists estimate that a single large parrot fish can poop out nearly 1,000 kg of sand each year!
This constant action of cleaning the reef is vital for healthy corals and a thriving reef.
Parrotfish generally live to around 5 to 7 years. Juveniles of most species begin life as females, often with a dull red, brown, or grey body colour.
Young parrotfish form harems, with the largest female changing sex to male, similar to their close relatives, the wrasse and clownfish. The transformation from female to male is usually accompanied by a dramatic change of body colour to bright green or blue with vivid red, pink, orange or yellow patches.
Large schools containing many hundreds of individuals can sometimes form, moving around the reef in densely packed groups, and swooping over corals to feed on algae beds.
Similarly to how humans wear pajamas to bed, parrot fish can produce a mucus cocoon at night, blown from their mouths and covering their entire bodies while they sleep.
Marine biologists think that this mucus cocoon hides their scent from nocturnal predators such as moray eels.
Parrotfish are found at all dive sites around Koh Lanta, constantly patrolling the reef, searching for patches of algae and coral to eat.
9 species found on this page.